AF Part 2 (Oral/Case)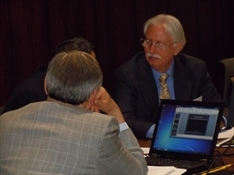 The Part 2 (oral/case) examination is clinically oriented. Candidates demonstrate their knowledge of the implant dentistry through six (6) standardized cases.
Note: The application window for the Associate Fellow and Fellow oral examinations is currently closed. Applications will re-open in the fall and will be due on February 1.
---
Applying for the Oral/Case Exam
The candidate must receive a passing score on Part 1 (written) examination before applying to take the second part, which is the oral/case examination. The oral/case examination must be completed successfully within four years after passing the Part 1 (written) examination; and candidates for the oral/case examination must be general members of the Academy in good standing.
The oral/case part of the Associate Fellow examination is administered once a year, usually in April or May, and the application deadline each year is February 1. Applications for Part 2 (oral/case) of the examination must be received by February 1. A $599 nonrefundable processing fee is required with the application. If you are retaking the Part 2 (oral/case) examination, the fee will total $650 ($250 for the processing fee and $400 for the reexamination fee).
When applications for the examination are received in the Headquarters Office, each candidate is issued an examination number.
The Part 2 (oral/case) examination is given in English. Therefore, candidates for whom English is not their primary language are urged to carefully evaluate their ability to take an oral examination in English. If needed, an interpreter may be requested on the application form. The interpreter will be supplied by the AAID, and the candidate will be responsible for the cost of this service, which will be based on the prevailing rate at the time of the examination and must be paid at least 30 days before the examination date.
The Associate Fellow Part 2 Oral Examination no longer requires case submissions for the self-defense portion of the oral exam. The oral exam is composed of standardized cases.
---
Location
Virtual Examination
The oral examinations are held annually and are virtual. Candidates are assigned an examination appointment of approximately 2 1/2 hours for the examination. Applications for the virtual oral examination are due by February 1. The oral examination fee is $599.
Cancellation/Refunds: Application fees are non-refundable. If the candidate cancels in writing on or before the case submission deadline (March 2) the application fee may be transferred to a future examination. Those who cancel after the case submission deadline will need to resubmit application and fee.


Exam Timeline
February 1: Application due to AAID Headquarters
March 1: Final day to cancel and transfer application fee
April 20 - 22: Virtual Examination
August: Results distributed by email
Annual Conference: Induction of new Associate Fellows and Fellows