History
It was just after World War II. Surgeons at Walter Reed Army Hospital were performing what appeared to be miracles in anatomical reconstruction. Artificial implants throughout the body were becoming a reality. If such techniques were readily available to the medical profession, couldn't they be adapted and applied to reconstructive dentistry?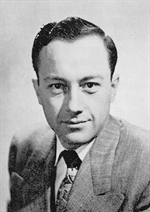 During the years in the army during World War II, Dr. Norman Goldberg noticed the numbers of people who were unable to tolerate a conventional denture and thought about possible solutions. His thought
process was that if certain metals were used to replace and repair other parts of the anatomy, why couldn't similar procedures be applied to restore dentition in edentulous mouths? After he returned to Providence, Rhode Island, to open his practice, he began to develop prototype models using ideas and techniques that he thought could accomplish this.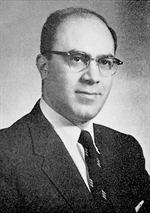 Quite by chance, Dr. Goldberg showed his original work to Dr. Aaron Gershkoff, who immediately became enthused about the idea. So began a collaboration that, after months of developing and refining their ideas, produced the first successful sub-periosteal implant in 1948. This success formed the foundation of Implant Dentistry. Recognition did not follow instantly. The two men worked conservatively and without fanfare.
In 1949, Drs. Goldberg and Gershkoff wrote an article published in Dental Digest detailing their research and their success. This article attracted the attention and interest of many practitioners around the country. Both Drs. Goldberg and Gershkoff pioneered the teaching of their techniques in dental schools and dental societies throughout this country and the world. Together they wrote the first textbook on implant dentistry in 1957 after assembling material for nine years.
In 1951, a group of 13 professionals met in St. Louis to draft the charter for the American Academy of Implant Dentures (later changed to the American Academy of Implant Dentistry). Those signing the charter were: Dr. Norman Goldberg, Dr. Aaron Gershkoff, Dr. Bert Spate, Dr. WIlliam Purcell, Dr. Frank Strake, Dr. Phillip Loechler, Dr. William Sone, Dr. Meyer Yallowitz, Dr. Wayne Paullus, Dr. Marshall Mueller, and honorary members Eric Bausch, William Soller, and John Kennedy. Dr. Goldberg became the charter president, serving two terms, followed by Dr. Gershkoff.
Both Drs. Goldberg and Gershkoff never faltered in their belief in the future of implants. Because of their reputation and willingness to report failures as well as successes, Drs. Goldberg and Gershkoff gained the respect of the profession.
Today, most AAID members use root-form implants, but AAID members are recognized for their expertise in providing all implant modalities.
The AAID is the first professional organization in the world dedicated to the advancement of implant dentistry. The more than 3,800 members of the AAID include general dentists, specialists, individual practitioners, and members who are part of a team.